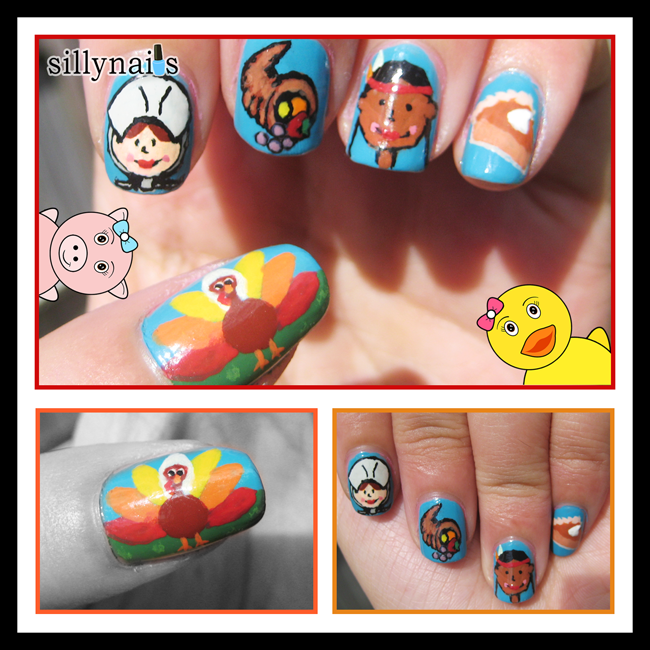 Happy Thanksgiving everyone! Hope you all have a great meal and an awesome time with your friends and family today :-).
Yesterday I drove to my parents house in West Palm and took Lil C.Ly and my niece out to see Breaking Dawn (aka Twilight part 4). I don't know what I feel about the movie but I wish I can get my own island after I get married too.
After the movies, Lil C.Ly and I stayed up doing our nails. Her post will be up tomorrow! I decided to do a Thanksgiving themed design (thought it was appropriate for today). This is my first time I used acrylic paint to design and wow it made it SO much easier to do! All this time I've been free hand painting with nail polish and it dries up so quick and gets irritating at times since the flow isn't as smooth as regular paint. I'm clumsy so I tend to put the tops back onto the bottles and that could be pretty time consuming when I open and then close etc. over and over just so it doesn't dry up or spill lolz. I also didn't have all the colors I needed in nail polish so sometimes I couldn't do certain designs but now that I've learned that I can use acrylic and it's SO much easier to mix and create different colors, I'm excited to do more designs!
What you're looking at:
Thumb: Turkey
Index: Female Pilgrim
Middle: Cornucopia with various fruits
Ring: Female Indian
Pinky: Slice of pumpkin pie